10 Effective Ways to Cut Costs on Office Copiers
In today's competitive business environment, managing expenses is crucial for success. One area that often goes overlooked in the quest for cost savings is office copier expenses. These machines, essential in virtually every office, can become a significant budgetary concern if not managed carefully. Fortunately, there are numerous ways to cut costs on office copiers without sacrificing quality or convenience. Here, we explore 10 effective strategies to save on office copier expenses.
COMPARE QUOTES NOW
1. Assess Your Actual Needs
Determine Your Requirements
Understanding the specific needs of your business is vital. Do you need color printing, scanning, or faxing? Knowing exactly what you need will help you select the right machine without overpaying for unnecessary features.
2. Consider Buying Refurbished Equipment
Save with Refurbished Models
Refurbished copiers are often just as reliable as new ones but come at a fraction of the cost. Manufacturers or authorized dealers often offer them with warranties, so you can trust their quality.
3. Lease Instead of Buy
Leasing Options
Leasing a copier allows you to avoid a large upfront investment and often includes maintenance and support. This option also offers flexibility to upgrade as technology advances without significant extra costs.
4. Utilize Managed Print Services
Outsource to Experts
Managed print services (MPS) take care of all your printing needs, including maintenance, support, and even supply replenishment. Outsourcing to an MPS provider can often lead to cost savings through optimization of printing processes.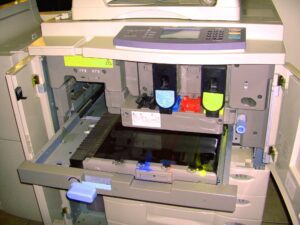 5. Optimize Copier Settings
Go Green
Setting copiers to print double-sided, using draft mode, or grayscale (if color is not required) can significantly reduce ink and paper consumption, leading to substantial savings.
6. Regular Maintenance
Preventive Care
Regular maintenance can prolong the life of your copier and prevent costly repairs. Investing in a maintenance contract with a trusted provider could save you in the long run.
7. Monitor and Control Usage
Track Printing Habits
Implementing print tracking software helps you understand printing habits within your organization and can lead to cost-saving adjustments.
8. Bulk Purchase Supplies
Buy in Bulk
Purchasing ink, toner, and paper in bulk often leads to discounts. However, make sure to balance the need for cost savings with the storage space required.
9. Choose Energy-Efficient Models
Save Energy, Save Money
Energy-efficient copiers consume less electricity, leading to lower utility bills. Look for ENERGY STAR-certified models as they meet energy efficiency guidelines.
COMPARE QUOTES NOW
10. Negotiate Contracts Carefully
Smart Negotiation
Whether buying or leasing, negotiation can lead to better pricing and terms. Don't hesitate to shop around and negotiate with different vendors to get the best deal.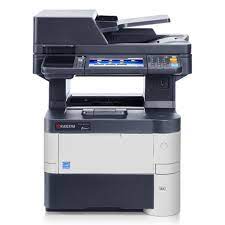 Cost-Effective Options to Consider
Refurbished Copiers: As mentioned earlier, these provide quality at a reduced price.
Compact Models: If your needs are limited, choosing a compact, less feature-rich copier may fulfill your requirements at a lower cost.
Utilize Cloud Printing: Cloud printing services can help small businesses reduce the need for a physical copier, leveraging digital solutions instead.
Cutting costs on office copiers is not only possible but can be achieved without losing out on efficiency or quality. By assessing your needs, considering various purchasing options, optimizing usage, and investing in regular maintenance, you can find a balance that fits your budget and meets your organizational demands. As technology continues to evolve, staying informed about new, cost-effective options will further enable you to make smart, budget-friendly decisions concerning your office copier needs.
Most Affordable Office Copiers on the Market
When it comes to choosing an office copier, affordability often plays a vital role, especially for small and medium-sized businesses. By selecting an affordable copier that fits your needs, you can maintain functionality without straining your budget. Here are some of the most economical options available in the market, along with their average costs.
1. Brother MFC-L2710DW
Cost: $199 – $249
Features: Monochrome laser printer, scanner, copier, and fax with wireless capability.
Suitable for: Small offices with basic monochrome printing needs.
2. Canon PIXMA TR4520
Cost: $99 – $129
Features: All-in-one color inkjet printer with scanning, copying, and faxing capabilities.
Suitable for: Small businesses and home offices with color printing needs.
3. HP LaserJet Pro M148fdw
Cost: $169 – $199
Features: Laser monochrome multifunction printer with high-speed printing.
Suitable for: Medium-sized businesses that require fast, monochrome printing.
4. Epson EcoTank ET-3760
Cost: $349 – $399
Features: All-in-one inkjet printer with cartridge-free printing, resulting in long-term savings.
Suitable for: Those looking for an environmentally friendly option with reduced ink costs.
COMPARE QUOTES NOW
5. Xerox B205
Cost: $179 – $229
Features: Monochrome laser printer with WiFi connectivity and intuitive touchscreen interface.
Suitable for: Businesses needing reliable monochrome printing and digital workflow capabilities.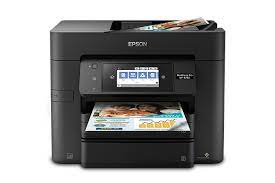 Average Costs of Office Copiers
The cost of an office copier can vary widely depending on the features, brand, and the type of machine (laser or inkjet). Here's a breakdown of the typical price ranges:
Entry-Level Inkjet Copiers: $80 – $150
Mid-Range Laser Copiers: $150 – $300
High-End Multifunction Copiers: $400 – $1,000
Commercial Copiers for Large Businesses: $2,000 – $10,000+
Finding the right office copier at an affordable price requires understanding your specific needs and researching the options within your budget. From compact models suitable for small businesses to more robust devices capable of handling larger volumes, the market offers a range of options. Investing time in comparing features and prices can lead you to a copier that fulfills your requirements without breaking the bank. The options listed above represent some of the best and most affordable choices available in 2023, suitable for various business sizes and needs.
Consider What Features Your Office Needs: Top-of-the-Line vs Basic Office Copiers
When it comes to purchasing an office copier, identifying the essential features your office needs can guide you in making the best selection. Understanding the differences between top-of-the-line and basic office copiers will help you decide the right balance between cost and functionality. Below, we'll explore both types and highlight their distinguishing features.
Top-of-the-Line Office Copiers
These high-end machines come with advanced features and functionality, often catering to larger businesses or those with specialized requirements.
1. Canon imageRUNNER ADVANCE DX C5700i Series
Cost: $8,000 – $12,000
Features: High-speed color printing, scanning, faxing, mobile connectivity, robust security features, and integration with cloud services.
Suitable for: Large businesses needing fast, high-volume printing, and enhanced security.
2. Xerox VersaLink C405
Cost: $700 – $900
Features: Multifunction color laser printer with touchscreen interface, customizable workflows, and connectivity with various apps and cloud services.
Suitable for: Medium to large enterprises looking for versatile and customizable printing solutions.
3. Ricoh IM C4500
Cost: $6,000 – $9,000
Features: Color multifunction printer offering high-speed printing, advanced scanning capabilities, mobile printing, and strong security protocols.
Suitable for: Large offices with demanding printing needs and strong emphasis on security.
Basic Office Copiers
These copiers provide essential functions without the frills of advanced features. They are often more budget-friendly and suitable for offices with straightforward copying and printing needs.
1. HP DeskJet 2755
Cost: $70 – $100
Features: All-in-one inkjet printer with printing, scanning, and copying capabilities.
Suitable for: Home offices or small businesses with modest printing needs.
2. Brother HL-L2300D
Cost: $99 – $129
Features: Compact monochrome laser printer with duplex printing.
Suitable for: Small offices that require reliable, monochrome printing without additional functions like scanning or faxing.
3. Epson WorkForce WF-2830
Cost: $130 – $160
Features: All-in-one inkjet printer offering basic printing, scanning, copying, and faxing.
Suitable for: Small businesses seeking a simple, multifunction device.
COMPARE QUOTES NOW
The decision between a top-of-the-line and a basic office copier hinges on the specific requirements of your office. If you need advanced functionalities, high-speed printing, robust security, and customization, a high-end copier might be the way to go. Conversely, if your needs are simple and you're looking to cut costs, a basic model may suffice.
It's crucial to assess the unique needs of your office, considering factors like printing volume, required features, security, and budget. By carefully weighing these factors, you can find the right balance between sophistication and simplicity, ensuring that the copier you choose aligns perfectly with your office's demands.
Understanding Office Copier Speeds: A Guide to Volume and Efficiency
The speed of an office copier is one of the most critical factors to consider when choosing the right device for your workplace. Not only does it affect the efficiency of your office operations, but it also relates directly to the volume of copying and printing the machine can handle. Here's what you need to know about copier speeds and how to find the right fit for your needs:
Measuring Copier Speed
Copier speed is typically measured in pages per minute (PPM), indicating how many standard pages a copier can produce in a single minute. Different copiers are designed to handle varying volumes, and understanding these can guide you to a machine that aligns with your office's needs.
High-Speed Copiers for Large Volumes
High-speed copiers are designed for large offices or businesses that have a constant need for printing and copying. These devices can handle substantial volumes with ease and efficiency.
1. Sharp MX-M7570
Speed: 75 PPM
Volume Capability: Up to 300,000 pages per month
Cost: $12,000 – $15,000
Suitable for: Large corporations with heavy daily printing needs.
2. Canon imageRUNNER ADVANCE 8585i
Speed: 85 PPM
Volume Capability: Up to 400,000 pages per month
Cost: $20,000 – $25,000
Suitable for: Enterprises that require robust performance and high-volume printing.
Mid-Range Copiers for Moderate Volumes
For medium-sized businesses, mid-range copiers provide a good balance between speed and affordability.
1. HP LaserJet Enterprise MFP M528dn
Speed: 45 PPM
Volume Capability: Up to 150,000 pages per month
Cost: $1,800 – $2,200
Suitable for: Mid-sized businesses with consistent but not overwhelming printing needs.
2. Lexmark CX825de
Speed: 55 PPM
Volume Capability: Up to 250,000 pages per month
Cost: $3,000 – $4,000
Suitable for: Organizations that need a robust yet affordable solution for moderate printing volumes.
Entry-Level Copiers for Low Volumes
Smaller businesses or home offices may not require high-speed copiers. Entry-level models offer cost-effective solutions for low to moderate printing needs.
1. Brother MFC-L2710DW
Speed: 32 PPM
Volume Capability: Up to 15,000 pages per month
Cost: $200 – $250
Suitable for: Small offices or home-based businesses with occasional printing requirements.
Understanding the speed and volume capabilities of an office copier is essential in finding a device that meets your unique needs. A copier that aligns with your office's printing volume will not only ensure smooth operations but also help you avoid unnecessary costs.
COMPARE QUOTES NOW
Whether you need a high-speed machine to handle large printing volumes or a more basic device for occasional use, there's a copier tailored to your requirements. By considering these factors, you can make an informed decision that enhances productivity and efficiency in your workplace.
Specialty Paper Friendly Copiers: Compatibility and Options
When it comes to office copiers, the type of paper used can have a significant impact on the quality and appearance of the final product. For businesses that require specific paper types for various tasks, understanding copier compatibility with specialty papers is vital. Here's a guide to different paper types and copiers that can handle them.
Copiers Compatible with Different Paper Types
Different copiers can handle various paper sizes, weights, and finishes. Whether it's cardstock for business cards, glossy paper for brochures, or legal-sized documents, the right copier will ensure smooth operation.
Cardstock
Cardstock is a heavyweight paper used for business cards, invitations, and more. It requires a copier with robust handling capabilities.
1. Xerox VersaLink C405
Compatible Weight: Up to 220 gsm
Features: Ability to handle various cardstock weights and sizes.
Cost: $700 – $900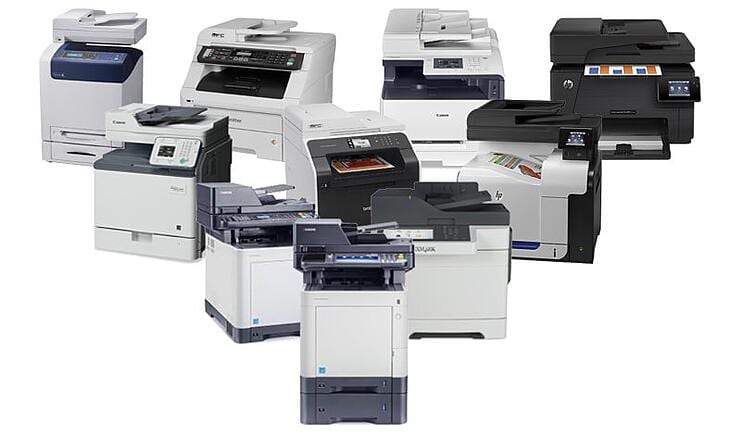 Glossy Paper
Glossy paper adds a professional touch to brochures, photos, and marketing materials. A copier compatible with glossy paper ensures sharp and vibrant prints.
1. Canon imagePRESS C10010VP
Compatible Weight: Up to 350 gsm
Features: Precise color control, supporting glossy finishes.
Cost: $25,000 – $30,000
Legal and Tabloid Sizes
Handling legal and tabloid-sized documents requires copiers that can accommodate larger paper sizes.
1. Ricoh Aficio MP 6002
Compatible Sizes: Legal, Tabloid
Features: Flexible paper handling with multiple tray options.
Cost: $4,000 – $6,000
Recycled Paper
Environmental consciousness is a priority for many organizations. Copiers that handle recycled paper support this goal.
1. Kyocera ECOSYS M3655idn
Compatible Types: Recycled, standard paper
Features: Eco-friendly design and compatibility with recycled materials.
Cost: $2,500 – $3,000
COMPARE QUOTES NOW
Tips for Using Specialty Papers
Check Compatibility: Always ensure that your copier is compatible with the specific paper type you intend to use.
Adjust Settings: Copiers may require different settings for various paper types. Consult the manual or manufacturer support to find the optimal configurations.
Sample Testing: It's wise to test a sample print on specialty paper to ensure the copier handles it correctly and the print quality meets your expectations.
Selecting a copier that accommodates specialty paper adds versatility and professionalism to your office printing capabilities. By understanding the different paper types and the copiers designed to handle them, you can make an informed decision that supports your business's unique needs. Whether it's glossy marketing materials or eco-friendly recycled paper, finding the right copier ensures that your printed documents always make the right impression.
How Long Will an Office Copier Last? Understanding the Lifespan
An office copier is a significant investment for any business, and understanding its expected lifespan can play a crucial role in decision-making. Like any piece of equipment, a copier's longevity depends on various factors, such as its make and model, usage patterns, maintenance practices, and the complexity of the tasks it performs.
Average Lifespan of Office Copiers
On average, an office copier's lifespan ranges from 5 to 10 years. However, this can vary widely based on several key factors:
Type and Model: Higher-end copiers with robust build quality may last closer to 10 years, while entry-level or budget-friendly models might have a shorter lifespan of 5 to 7 years.
Usage Patterns: A copier used intensely in a high-volume printing environment may wear out faster than one used in a small office with limited daily printing.
Maintenance and Care: Regular maintenance, including cleaning, timely replacement of parts, and adherence to the manufacturer's guidelines, can significantly prolong a copier's life.
Indicators of Wear and Tear
Knowing when a copier is nearing the end of its life can help in planning for a replacement. Here are some common signs of wear and tear:
Frequent Breakdowns: Regular malfunctions or need for repairs.
Decline in Print Quality: Blurred images, faded prints, or uneven ink distribution.
Incompatibility with New Technology: Difficulty integrating with newer computers or software.
Extending the Life of an Office Copier
While the average lifespan serves as a general guideline, it's not set in stone. With proper care and attention, an office copier's life can be extended:
Regular Maintenance: Scheduling routine maintenance with a professional technician helps in early detection of potential issues.
Use Recommended Supplies: Utilizing manufacturer-recommended toner and paper reduces wear and tear.
Monitor Usage: Implementing printing policies to prevent unnecessary printing helps in preserving the copier's condition.
An office copier's lifespan is a vital consideration when purchasing or leasing equipment. By understanding the factors that influence a copier's longevity and taking steps to care for the machine, you can optimize its lifespan and gain the most value from your investment.
COMPARE QUOTES NOW
Making an informed choice about the make, model, and maintenance of a copier aligns with your office's needs, ensuring that the copier serves your business efficiently for years to come. It's always advisable to consult with a professional or a trusted vendor to find the copier that best suits your needs and expectations.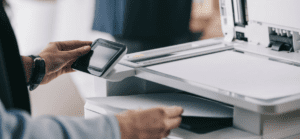 Signs You Need to Replace Your Office Copier
Just like any other essential office equipment, copiers may reach a point where repair and maintenance are no longer cost-effective. Recognizing when it's time to replace a copier is crucial to avoid potential disruption in your office workflow. Here are common signs that you may need to consider replacing your copier:
Consistent Decrease in Performance
If the copier is constantly slowing down, jamming, or producing subpar print quality, these could be indicators that it's time for a replacement.
Frequent Repairs and Maintenance
When the cost of ongoing repairs starts to exceed the value of the copier itself, it's a clear sign that you should consider upgrading to a new model.
Obsolete Technology
As technology evolves, older copiers may become incompatible with newer computers, operating systems, or software. Upgrading to a more current model ensures better integration with the latest technology.
Inefficient Energy Consumption
Older copiers often consume more energy, and replacing them with energy-efficient models can lead to long-term savings on utility bills.
Common Office Copier Troubleshooting
Even with the best care, copiers can occasionally run into problems. Here are some common troubleshooting techniques that could help you resolve minor issues:
Paper Jams
Solution: Carefully remove the jammed paper by following the manufacturer's instructions. Ensure that the paper tray is loaded correctly.
Poor Print Quality
Solution: Regularly clean the copier's components, such as the glass and rollers. Replace toner cartridges or drums as needed.
Connection Issues
Solution: Check the cables and network connections. Restart the copier and connected devices if necessary.
Error Messages
Solution: Refer to the copier's manual to interpret the error code, or contact the manufacturer's support line for assistance.
Knowing when to replace your office copier and being able to troubleshoot common problems can save both time and resources. By monitoring the performance of your copier and being aware of signs that suggest it's time for a replacement, you can ensure continuous and efficient operation in your office environment.
COMPARE QUOTES NOW
If troubleshooting doesn't resolve an issue or if the problems persist, it's wise to consult with a professional technician. They can provide a thorough assessment and recommendation on whether it's time to repair or replace the copier. Investing in a new copier might be the most cost-effective solution in the long run, providing you with modern features, improved efficiency, and potential savings on energy and supplies.
Top Office Copier Maintenance Tips to Expand Their Lifespan
Maintaining an office copier properly is vital to ensuring that it operates efficiently and lasts as long as possible. Regular maintenance can prevent unexpected breakdowns and reduce the need for costly repairs or replacements. Here are top maintenance tips to expand the lifespan of your office copier:
Keep It Clean
Cleaning the Glass: Use a soft cloth and appropriate glass cleaner to keep the copier glass free of dust and smudges.
Cleaning the Rollers: Follow the manufacturer's guidelines to clean the rollers, as accumulated dust can lead to paper jams.
Use the Right Supplies
Quality Paper: Using the proper type and quality of paper recommended by the manufacturer helps in reducing paper jams.
Genuine Toner: Stick to genuine or manufacturer-recommended toner cartridges to ensure optimal print quality and minimize potential issues.
Regular Inspection and Servicing
Periodic Checks: Regularly inspect the copier for any visible signs of wear or damage, and address them promptly.
Professional Servicing: Schedule regular maintenance with a professional technician, who can conduct thorough inspections and address any underlying issues.
Train Your Staff
Proper Usage: Educate your staff on the correct way to use the copier, as improper handling can lead to unnecessary damage.
Troubleshooting Basics: Familiarize your team with basic troubleshooting techniques to resolve minor problems, such as paper jams, quickly.
Manage the Settings
Energy Saving Mode: Utilize the energy-saving features that modern copiers offer to reduce energy consumption.
Print Quality Settings: Adjusting the print settings to match your needs can prevent unnecessary wear on the copier's components.
Monitor Copier Usage
Usage Limits: Implement usage guidelines to prevent overuse and unnecessary wear on the machine.
Usage Tracking: Some advanced copiers come with tracking capabilities that allow you to monitor usage patterns and detect any unusual activities that might indicate problems.
Firmware and Software Updates
Regular Updates: Ensure that the copier's firmware and software are up to date, as manufacturers often release updates that fix bugs or enhance performance.
A well-maintained office copier is not only more reliable but can also offer an extended lifespan, saving costs in the long term. These maintenance tips are general guidelines, and it is always advisable to consult the copier's manual or the manufacturer for specific maintenance procedures for your particular model. By investing time and effort in proper maintenance, you can keep your office copier running smoothly and efficiently for years to come.
COMPARE QUOTES NOW