———–

Office Copiers – Leasing & Finance

———–
Copy Machines for Lease & Office Copier Financing
We've got access to the widest selection of office copy machines and printers around, and our suppliers also offer an array of purchase and payment options for your convenience. You'll not only find the copier your business needs, but you'll also be able to get it in a way that creates the most value for you and your company.
Purchase or lease, cash up front or financed, and get a copier that fits your office and your budget.
How Much Does it Cost to Lease an Office Copier?
The below represents the national average cost to lease office copiers.
| | | |
| --- | --- | --- |
| Office Copier Type | Features | Avg Lease Cost |
| Standard Office Copy Machine    | B&W or Color Print | $75–$320 |
| Multifunctional Copiers  | Copy/Print/Scan/Fax + Color | $250–$433 |
| Commercial Printers | 60+ PPM, Color + All Options | $299–$509 |

Advantages of Leasing a Copy Machine
Leasing a copy machine can be a great way to save on upfront costs, and in most cases, it also means you get to forget about variable maintenance costs and sudden surprise expenses when repairs are needed. When you lease a copier instead of buying it outright, you get flexibility and worry-free operation with leasing, and that can be a tremendous asset.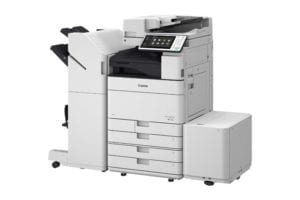 Most leasing plans are based on print volume, determined on a per-page basis (with color and black and white printed pages frequently measured separately), with expected maintenance costs built in. Your monthly base rate will include a set number of prints and copies, with extra charges incurred for going over the limit. Some plans are flexible, with multiple tiers that change each month depending on your volume, and others simply charge an extra fee for each additional page.
Keep these leasing options in mind if your copying and printing needs vary a great deal from month to month—there's still a leasing plan that will work if you know what to look for.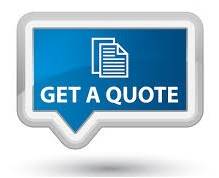 Financing Your Office Copier
Financing the purchase of your office copier is also a great way to save on upfront costs, while still getting the full value of your investment in a copy machine. Flexible rates, down payment options, and loan periods make it easy to get the copier you need now and pay for it later. You can put it to work creating value for you, and it will practically pay for itself as you go along.
Speak to Our Copy Machine Experts Today to Make YOUR Deal
Our team of commercial copy machine suppliers is ready to help you find the copy machine you need, and a leasing or financing option that lets you get it up and running ASAP. Contact us if you have any questions—we know copy machines and our business is to save you money. We'd love to put our expertise to work for you!
Ready To Find The Perfect Copier? Click Here For Free Quotes
Office copiers are necessary for copying, scanning, and faxing documents. But before you go out and buy a copier, you should consider leasing one. Leasing a copier has many benefits you can get the latest model, it's more affordable than buying one outright, and you don't have to worry about maintenance or repairs. So if you're in the market for a new copier, be sure to lease one!
The Benefits of Leasing an Office Copier
There are numerous benefits to leasing an office copier as opposed to purchasing one outright. One of the main advantages is that you can always have the latest model. As technology advances, new features and capabilities are added to office copiers. By leasing, you can take advantage of these new features as they become available, rather than being stuck with an outdated model.
Another benefit of leasing is that it is more affordable than buying a copier outright. When you lease, you only pay for the use of the copier over the term of the lease. You don't have to come up with a large sum of money upfront to purchase the copier outright.
Finally, when you lease a copier, you don't have to worry about maintenance or repairs. This is because most leases include a service contract that covers these costs. So if something goes wrong with the copier, you can simply call the leasing company and they will send someone out to fix it.
Copier Features
Before you lease an office copier be sure to consider the features that are most important to you. Here are a few features:
Print speed: This is how fast the copier can print documents. If you have a high volume of copying needs, you'll want a copier with a high print speed. Print quality- this refers to the resolution of the copies produced by the copier. Higher resolutions mean sharper, more detailed copies.
Automatic duplexing: This feature allows the copier to automatically print on both sides of the paper. This can save you time and money by reducing the amount of paper you use. Scanning capabilities- many office copiers now come with scanning capabilities. This allows you to scan documents and save them electronically. This can be a handy feature if you need to send documents electronically or make digital backups. Now that you know the benefits of leasing an office copier, as well as some of the features to look for, you're ready to start shopping around.
Security: Many office copiers now come with security features that allow you to password-protect your documents. This can be a valuable feature if you are handling sensitive information. When it comes to choosing an office copier, there are many factors to consider. But one of the most important decisions is whether to lease or buy outright.
Partial Page Copy: This feature allows you to copy only a portion of a document, rather than the whole thing. This can be useful if you only need to make a few copies of a long document. Stapling- some office copiers come with stapling capabilities. This can be helpful if you need to staple multiple documents together.
Scan to Email: This feature allows you to scan a document and email it directly from the copier. This can be a time-saver if you need to send documents electronically. There are many different types of office copiers on the market, so it's important to do your research before making a purchase.
Be sure to compare different models and leasing options to find the best deal. And don't forget to factor in your copying needs when making your decision. With a little bit of research, you're sure to find the perfect office copier for your business!