Top 8 High-Efficiency Office Copiers in 2023
In the bustling environment of modern offices where deadlines loom and efficiency is paramount, possessing robust, high-performing technology becomes pivotal. Despite the digital tide, the demand for tangible, high-quality printed documents persists, necessitating the presence of competent, high-efficiency office copiers that can seamlessly merge with the digital workflows of 2023.
COMPARE QUOTES NOW
From illustrious print quality, and swift operations, to intricate security measures, today's copiers embody a myriad of advanced features designed to elevate operational productivity and safeguard critical data. Let's embark on a journey through the top 8 high-efficiency office copiers of 2023, exploring their unique offerings and understanding how they stand out in a sea of technological advancements in the realm of document management.
1. Canon ImageRUNNER Advance DX C5740i
Canon has long been a mainstay in the realm of office automation, and the ImageRUNNER Advance DX C5740i further fortifies this standing. With a notable print speed of 40 pages per minute (ppm) and a maximum paper capacity of 6,350 sheets, it caters magnificently to mid-sized and large enterprises. This multifunctional device also boasts outstanding image quality, robust security features, and integrations with cloud services, creating a seamless workflow across various processes.
2. Xerox AltaLink B8145
Profoundly respected in the copying and printing industry, Xerox presents the AltaLink B8145 as a paradigm of efficiency and reliability. With a zippy output of 45 ppm and a sophisticated user interface, it amalgamates productivity with ease of use. Additionally, its ConnectKey technology renders a consistent user experience across various devices while ensuring robust security and scalability features.
3. Sharp MX-5071 Advanced Series
When considering a copier that promises exceptional color output and versatile functionality, the Sharp MX-5071 invariably surfaces. Delivering a print speed of 50 ppm with an impressive focus on energy efficiency, it's not merely an office copier but an eco-friendly choice that aligns with sustainable business practices. The copier's advanced Cloud functionality and user-friendly touchscreen interface further elevate its status.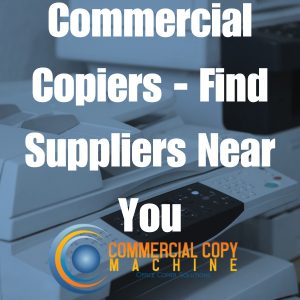 4. Kyocera TASKalfa 3554ci
Kyocera steps up to the plate with the TASKalfa 3554ci, integrating impressive color quality with significant productivity enhancements. The model flaunts a print speed of 35 ppm, paired with advanced security protocols and mobile print capabilities. The sustainable technology and long-life components make it an economically and environmentally sensible selection.
5. Ricoh IM C4500
Ricoh's IM C4500 triumphs in balancing high-speed output (45 ppm) with impeccable image quality. It supports a host of paper formats and weights while offering customizable solutions through its smart operation panel. Its robust security features and the ability to integrate with various workflow applications enhance its appeal to modern businesses.
6. Konica Minolta Bizhub C360i
Offering a blend of innovative technology and user-friendly design, the Konica Minolta Bizhub C360i ensures a seamless workflow with a print speed of 36 ppm. It pioneers in bringing together mobile printing capabilities, advanced security features, and an interactive user interface, making it a stellar choice for a diverse range of businesses.
7. HP LaserJet Enterprise MFP M635h
The HP LaserJet Enterprise MFP M635h is a powerhouse in the realm of monochrome printing. Tailored for businesses that require a high-volume, black-and-white printing solution, it delivers an astounding 65 ppm. Infused with advanced security features and offering a straightforward user interface, it aligns closely with the demands of a high-paced work environment.
8. Brother MFC-L8900CDW
The Brother MFC-L8900CDW marvels with its blend of affordability, reliability, and impressive features. Offering a print speed of 33 ppm and high-quality color printing, it caters exquisitely to small and medium-sized businesses. With user-friendly features, such as intuitive touchscreen controls and robust security features, it is lauded for its excellent value proposition.
COMPARE QUOTES NOW
Choosing a copier is synonymous with choosing a business partner; its efficacy directly impacts your operations. These eight copiers stand out in 2023, not just for their adept paper reproduction but also for their commitment to security, user accessibility, and in some instances, environmental sustainability.
Each model offers a unique set of features and capabilities, ensuring that businesses can select a device that aligns perfectly with their specific needs, operational scale, and budget. From small enterprises to colossal corporations, there exists a copier amongst these that promises to pave the way toward seamless documentation and workflow management.
Why Choose High-Efficiency Office Copiers?
Time-Saving and Productivity Boost:
High-efficiency copiers remarkably expedite the document-handling processes within an organization. Fast printing speeds, duplex scanning, and the capability to handle large volume tasks without frequent intervention allow businesses to get more done in less time, thereby enhancing productivity.
Quality Outputs:
Uncompromising quality is a hallmark of high-efficiency copiers, ensuring that every copied, printed, or scanned document retains its clarity, color accuracy, and professional appearance, which is crucial for maintaining a company's credibility.
Advanced Features:
Today's copiers are more than just copiers; they're multi-functional devices (MFDs) that copy, print, scan, and fax. High-efficiency models often boast advanced features like cloud integration, mobile printing, and workflow automation, providing versatile solutions to meet the diverse needs of modern businesses.
Eco-Friendly:
Modern copiers often incorporate eco-friendly technologies that optimize energy usage, reduce waste, and support sustainability goals, which is instrumental for businesses aiming to minimize their environmental impact.
Security:
Data security is paramount, and the best office copiers incorporate robust security features like data encryption, secure print release, and user authentication to safeguard sensitive information.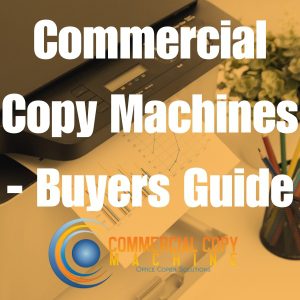 Who Needs High-Efficiency Copiers?
1. Large Enterprises: For corporations dealing with extensive document workflows, a high-efficiency copier that can manage heavy-duty tasks, while safeguarding data integrity, is imperative.
2. Legal Firms: Legal professionals often work with voluminous, critical documents that require precise reproduction and secure handling. High-efficiency copiers assure consistent quality and robust security for such sensitive materials.
3. Educational Institutions: Schools, colleges, and universities require efficient copiers to handle vast printing needs, including materials for students, administrative documents, and academic research, necessitating a machine that can consistently deliver under pressure.
4. Print and Design Shops: Businesses specializing in printing and design services must prioritize exceptional print quality and consistency, which high-efficiency copiers readily provide, ensuring customer satisfaction and repeat business.
5. Healthcare Facilities: Timeliness and data security are paramount in healthcare settings, where patient records and other critical documents must be handled with utmost confidentiality and precision.
6. Government Agencies: Government bodies often handle large-scale printing jobs, coupled with an absolute necessity for secure data handling, making high-efficiency, secure copiers an essential asset.
COMPARE QUOTES NOW
Benefits of High-Efficiency Copiers
– Small and Medium Enterprises (SMEs): For SMEs, a high-efficiency copier represents a wise investment that provides versatile functionality (print/copy/scan/fax) within a single device, saving space and ensuring that varied documentation needs are met with aplomb.
– Marketing Agencies: Marketing firms, which often require high-quality, color-accurate prints for campaigns and presentations, benefit enormously from the exceptional output quality that top-tier copiers provide, thereby ensuring that their creations are presented in the best light.
– Research and Development Firms: R&D firms, which are typically engulfed in data, gain from the advanced data management and storage solutions offered by modern copiers, ensuring seamless data flow and secure storage.
– Non-Profit Organizations: Non-profits, which often operate under budget constraints, can utilize high-efficiency copiers to get the most value from a single device, ensuring that their varied documentation needs are met cost-effectively and efficiently.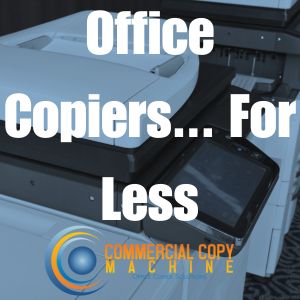 The incorporation of a high-efficiency office copier is not just a technological upgrade; it's an investment in streamlining operational workflows, safeguarding data, and presenting a professional image through every printed page. By analyzing specific needs, considering volume, and understanding the multifaceted capabilities of modern devices, businesses of all types can select a copier that not only meets but enhances their document management capabilities in a secure and efficient manner.
COMPARE QUOTES NOW
Assessing the Monetary Aspect: Cost of High-Efficiency Copiers
Navigating through the fiscal facets of investing in a high-efficiency copier requires a careful analysis of initial costs, maintenance overheads, and the potential return on investment through enhanced operational efficiency.
Initial Investment
The initial cost of high-efficiency copiers can vary quite broadly depending on the make, model, features, and capacities.
Entry-Level Models: These might be suitable for small businesses with less frequent use and fewer advanced feature requirements. Prices can range from $2,500 to $5,000.
Mid-Range Models: Designed for medium-sized businesses or workgroups within larger businesses that need reliable daily usage and a wider array of features, these copiers can range from $5,000 to $10,000.
High-End Models: Catering to the needs of large enterprises with heavy usage, advanced features, and high-speed, high-volume capabilities, these models can span a pricing spectrum of $10,000 to $40,000 and upwards.
These are average cost frames and may vary according to specific models, brands, and regional pricing standards.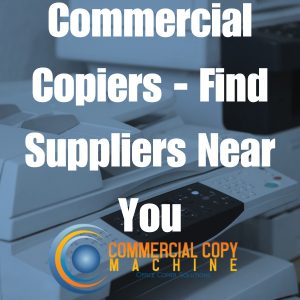 Ongoing Costs
In addition to the initial outlay, businesses should also be mindful of ongoing costs, including:
Maintenance: Regular servicing is crucial to ensure smooth functioning, which may involve a maintenance contract or periodic servicing fees.
Consumables: Toner or ink, paper, and other consumables are recurrent expenses that need to be factored into the budget.
Repair: While maintenance can minimize issues, occasional repairs or parts replacements are inevitable and can incur additional costs.
Leasing Options
Many businesses opt for leasing copiers to mitigate the steep upfront costs, allowing for a manageable monthly expense instead. Leasing costs can vary based on the copier model and lease terms but could range from $100 to $600 per month, or even more for high-end models with all the bells and whistles.
COMPARE QUOTES NOW
Evaluating the Investment
Choosing whether to invest in a high-efficiency copier—be it through purchasing or leasing—ultimately comes down to assessing your business's specific needs, usage volume, and budget constraints.
Cost-Benefit Analysis: Understanding how the copier will enhance operational efficiency, reduce downtimes, and potentially save costs in the long term is pivotal.
Feature Utilization: Investing in a model that aligns closely with your needs without over-investing in features that won't be utilized is crucial.
Financial Planning: Considering the financial layout, whether it's a capital expenditure or a monthly operating expense, needs to be planned judiciously in the overall budget.
A high-efficiency copier stands as a pivotal investment that can reshape and refine operational workflows in businesses. Striking a balance between cost and functionality, while ensuring that the chosen model aligns seamlessly with the organizational needs and financial planning, paves the way for a well-calibrated decision that underpins smoother, more efficient operations.
COMPARE QUOTES NOW