A Look at the Best Office Copiers of 2018
If you're in the market for a new office copying machine, then you're going to want to check out this buying guide where we'll give you a quick run down of the best office copiers of 2018. Who knows, you may find the perfect copier right here!
The investors meeting begins in an hour. You need to print off the data sheets for everyone, but copier is down… AGAIN!
A brand new office copier averages about 5 years lifespan and a refurbished model will likely only last 2-3 years!
Unfortunately, that means that your office will often need to replace copiers.
The good news is that we have gathered a list of the best office copiers of 2018! Read on to find your offices next copier.
Price Estimate of the Best Office Copiers
There are all kinds of printers that run the full range of budgets.
You could get a small refurbished basic office printer or get a heavy volume copier at a much higher price point.
A good tip is to know what exactly your company needs are so you do not overspend on bells and whistles you don't need.
For this article, we will be focusing on the small to medium-sized office printers that work for standard office jobs. For a printer like this, you should expect to spend $16,000 for a new printer or $400 – $6,000 for a used one (depending on needs).
From small business needs, to medium copier solutions, here's the latest and the best.
KYOCERA ECOSYS Mono Laser
This is a great option for your business because it is very versatile.
It has an easy interface touch panel that gives you access to many different printing features.
Kyocera boasts lightning fast printing speeds for small to medium jobs in either black and white or color.
This model also has a reversing document processor which can scan and print a two-sided document without the need for turning the page.
Another great feature of this printer is the ability to print small jobs from a remote location. This feature allows you to print from your smartphone or laptop before you get to the office and have your copies ready when you walk in the door.
Brother Laser Multifunction Copier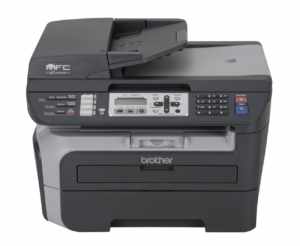 This printer is more compact and falls at the lower end of the price spectrum.
It is ideal for light office work or as a personal printer for your home. Teachers also love this model because they can avoid the line at the community copier.
This little printer is a big bang for your buck though!
Brother designed this model with time savings in mind. The streamlined printing features produce quality, professional-looking papers.
Canon Multifunction Printer
This printer model is an all in one printer copier and scanner which has output on each side for greatest efficiency.
Not only is this model compact, but its efficiency will also reduce the amount of paper lost due to various errors.
Cannon's quick first technology boasts the ability to print a page in only 6 seconds!
Brother Digital Copier
Another Brother printer topping our lists is the larger digital copier.
This is a great printer if you need a full floor sized printer that excels at printing copies at great speed.
You can also use this printer to print regular documents or even photocopying!
Canon Image CLASS Copier
This copier is very popular for offices because it is easy to install and easy to use.
A great feature that this model has is a top tray for intake so you can set a stack of papers in the tray and the copier will scan them all in quick succession.
The compact, desktop design will produce as well as larger commercial models, and it only uses 3 watts of energy!
Konica Minolta Bizhub 3320 Copier Printer Scanner
This printer is a small version of an industrial model because it has a small footprint but prints at commercial speed.
It is a multifunctional device that can print, scan and photocopy with professional quality.
A neat feature of this printer is the use of durable materials and surfaces that remain rust and dust free.
As a bonus, this model is easy to clean and will not get stained by surplus ink and affect the quality of the printing jobs as time goes on.
Oki Data Printer
If you have concerns about printer breakdowns and paper jams, this is the printer for you!
It is one of the most reliable models out there. The printer is simple enough to install and maintain in-house instead of having to wait for a technician to come out to you.
This printer is both compact and cost-efficient, so it will save you time, money, and floor space!
Brother Monochrome Printer
This is a Brother model that boasts the quick print technology and can churn out high-quality documents in seconds.
There are security features like one that allows only the person who sent a job to the printer to be able to retrieve the document using a code.
The duplex feature allows you to print a double-sided document faster because the page does not need to run back through the machine.
Another cool feature is the ability to scan and print from a USB drive. No need to open a file from a computer in the network before walking to the printer!
Ricoh Aficio Digital Color Printer
This is the "Cadillac model" of printers with more features than you could shake a stick at.
Ricoh is the only printer that can perform several tasks at the same time! One person can be copying a document while someone else sends another job to print from a remote computer.
Since the documents print at the same time and not put into a queue, there is much less back up of print jobs.
It is an all in one, full-size printer that runs at the price of smaller, portable printers.
Don't let the full-size appearance fool you though; this printer is also low maintenance!
If you are looking for a top of the line, all in one printer that has all the bells and whistles you could ever need, this is your best bet.
Get Shopping
There are many reliable retailers of office copiers across the nation. You should look at several companies once you decide which printer you want to buy.
Shopping around can knock off a good chunk of money from these expensive pieces of office equipment.
You could also request a consumer buyer's guide to help you compare the prices of the best office copiers.