Black-And-White vs Color Copying Machine: What's the Cost?
A color copying machine can print in both color and black-and-white. But there's as difference in cost. Printing in black ink costs less than printing in color.
Did you know photocopiers first originated in 1938 and changed the working world? In 1959, Xerox created a transformative machine that allowed people to copy documents in the office without doing it by hand.
Copy machines have become much more advanced, from the speed and image clarity to be able to copy in color vs. black and white. Keep reading, and we will guide you through the color copying machine and the cost difference between color and black and white photocopying.

Copy Machine Features
When you're choosing a business copy machine, whether it's for your employees in the office or your home office, you need to consider all of the features they have to offer and which are most important to you.
You can better compare models if you look at their key features, especially the accessories and software. You want to make sure you are getting your money's worth.
Speed
Print or copy speed is on the spec sheet as "ppm," which means pages per minute. You want to make sure you get a copier that works quickly and efficiently, especially if you print in high volumes. If you have average printing needs, 45 to 50 ppm is a great speed.
Paper Volume
You want to make sure the paper tray can hold as much as you need to copy. You also want to check for the size of the paper it can copy. Usually, between 11.7×16.5 inches or 8.3×11.7 inches are standard and the most common ones chosen. It depends on what you need to copy, so consider the paper size.
Graphics
If you're making copies of word docs versus images, you need to find the resolution on your copy machine because images will require more resolution. A standard resolution is 2400 x 2400 dpi, and the color is critical.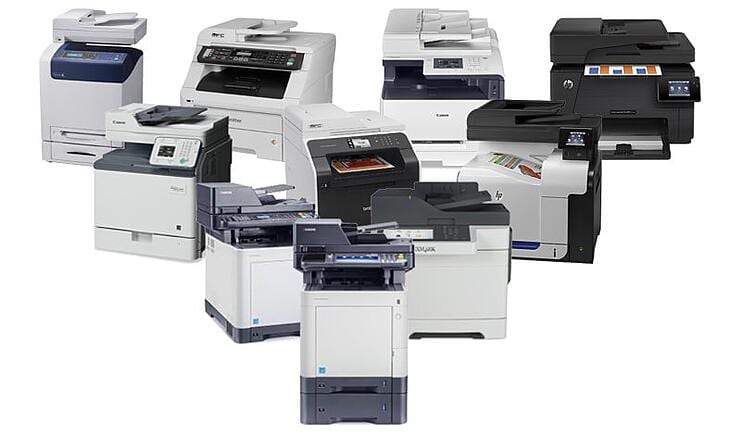 Copiers fit into your home office or business space, and around the size of your desktop. You can spend as little as $50.
It would be best to look in the price range of $300-$700 because you want to get a model that works for your business needs.
You can also look into renting or leasing if you are working on a specific project that's only going to go on for a certain amount of time to save money in the long run.
Ink Cartridge Breakdown
Printing is one of the most significant yearly expenses for companies. Paper and ink supplies are necessary and expensive.
Color printers and copiers have four sets of toner cartridges. There is black, yellow, magenta, and cyan to get the full range of colors for color printing and copying.
We are going to walk through how the cost varies from color copying compared to black and white. One of the biggest myths in printing and copying is that black ink is a lot less expensive than colored ink cartridges.
It varies by the brand, and there isn't as big of a difference as people think. You need to evaluate your printing and copying estimates for the year and then look at cost comparison. You may find that color copying isn't that expensive.
We are going to break down the basics in pricing:
The prices depend on the brand and if you use an inkjet or laser copier or printer.
Color Ink Cartridge: These range from

 

$20 to $100

 

per cartridge
Black Ink Cartridge: These range from $5 to $50 per cartridge
Cost per Black and White Copy: .05 cents
Cost per Color Copy: 10 to 15 cents
These costs may vary, but these are around the average prices for each category.
If you are making copies using the best quality printer with the best brand of ink, the cost of color could be almost double or triple of black ink. If you're using an average printer with lower quality or generic ink, the cost difference of color vs. black ink could be a few cents.
Ink cartridges are made up of two parts how much the cartridge costs and how much ink it contains. Some cheaper cartridges have very little ink, and expensive ones have a lot more ink and are worth the price.
You will end up having to buy more cheap cartridges because they run out of ink, so it's worth the investment to buy what appears as the more expensive one.
Color Copying Machine
The ins and outs of ink cartridges are only part of a color copier or printer.
You need to consider two questions if you're looking to buy a color copying machine:
What is the primary use of the copier? Will you be copying text documents or visual reports, brochures, or marketing materials?
Is copying in color required to operate your business?
If color copying is essential, you can work into your budget, the best cartridges to get, and how much you can spend on color copies.
You should also set rules about what can be copied or printed in color so that people aren't using it for unnecessary materials and wasting them.
You could also get a black and white copier and then a small desktop colored printer, so you can print in color, but only copy in black and white.
It's very dependent on your business needs and how you can get creative with spending more on nicer colored cartridges and getting a lot of use out of them vs. getting cheaper ones and having to buy them more often.
Working them into your budget for the year is very important if color copying is essential for your business.
Is Color Copying Essential For Your Business?
You may need to make colored copies for your business, and it's essential to incorporate a color copying machine into your budget and the key features, from the ink cartridges to the paper.
There are ways to cut costs, you have to get creative and set rules for your employees.
Start ordering your color copier today or get a free quote on a commercial copier today!