Choosing Office Copiers | 8 Tips You Need To Know
When you're searching for the right office copiers to meet the needs of your business, explore these considerations and tips.
Are you searching for dependable office copiers for your business? With several options available, picking one is no simple task. You can get a brand new one or lease one, depending on your budget and requirements.
Compare Quotes
Thousands of companies still depend on copiers despite the digital age we are in. Moreover, a LinkedIn survey revealed 10 types of office equipment that will become obsolete soon.
Surprisingly, the office copier is not one of them.
How do you pick the right copiers for your company? What are the key factors you need to consider? Continue reading below as we go deeper into the copy machines.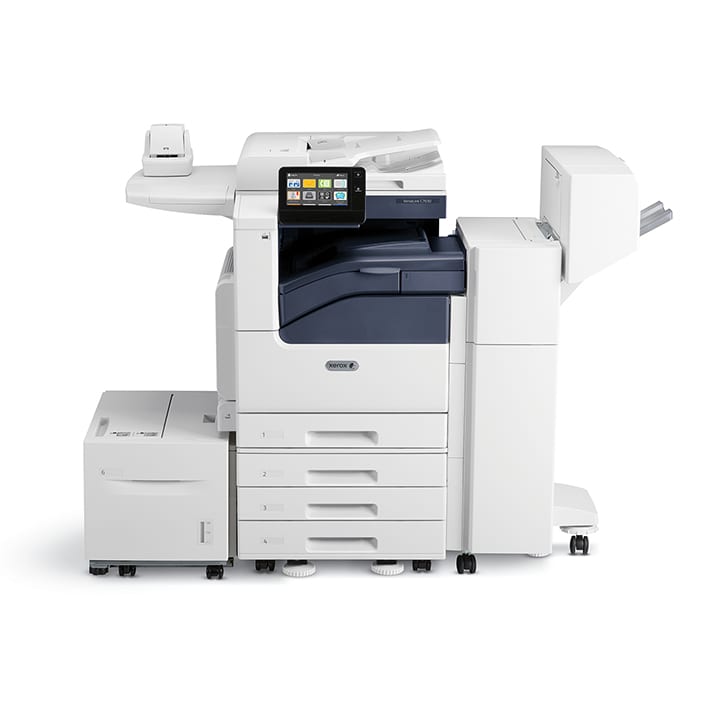 Why Industries Still Rely on Copiers
Before we head on to the key considerations, let us first discuss some of the biggest reasons why businesses still invest in office copiers. As we mentioned earlier, we are already living in the digital age. You can perform almost every office task through computers and handheld devices.
This includes sharing and storing files.
Nevertheless, the office copy machine continues to defy the changing times. But how is it able to do so? First, it is a fact that not all companies are paper-free. Some businesses are still in the process of transitioning to a paperless environment.
Furthermore, some cater to clients who require documents in physical form.
Another big reason is that some companies want to keep hard copies as back up for their digital files. This is crucial in the event of computer crashes and storage system hackings.
Studies show that hackers attack every 39 seconds. They also steal an average of 75 records per second. And as of March 2019, there are over 14 billion data records that fell into the hands of hackers.
These are some of the key hacking statistics that strengthen the need to back up your files using physical copies.
What Should I Look For in An Office Copier?
We earlier said that there are key considerations you must be aware of before buying an office copier. These are factors that will help you get the best value for your money. Let's take a look at them below:
1. Best Copy machine for Small Business Use
Before anything, you must first determine the purpose of buying office copying machines. What exactly are your office printing needs? If you are running a big company, the printing needs of your employees may differ from one another.
Hence, you need to look at the essential functions of your employees on their use of the copier. Start by identifying the types of documents your company prints and copies. This will keep you from buying copiers that do not match your specific requirements.
Do you print high-resolution documents? Are you heavy on the black and white type of reports? If you answered the former, then you may consider looking at some of the latest copying machines.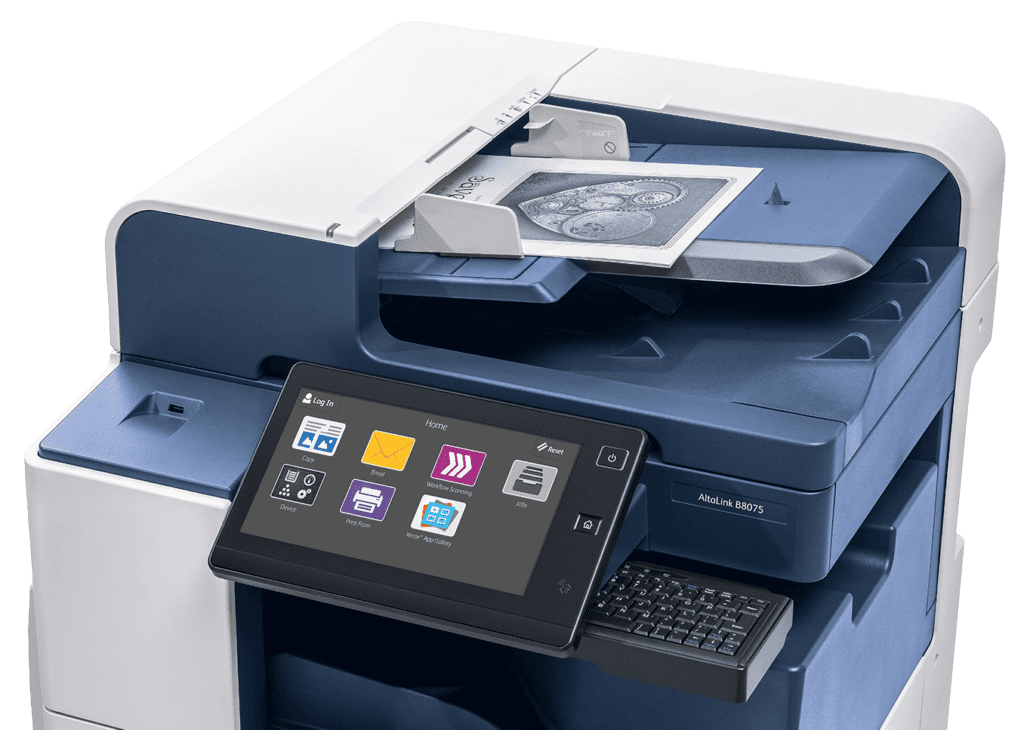 If your requirements fall under the latter, you can go for a smaller black and white copier for starters.
Also, you need to consider the response times of the copiers. Do you need to print copies at a fast rate? Do you need to produce volumes of copies at the least amount of time?
2. The Colors that You Need
You also need to determine the graphic output requirements of your company before buying office copiers. Do you print copies in full-color? Or do your clients require the simple black and white effect?
If most of your requirements involve internal printing use, then a monochrome copier ought to do the trick. But if you tend to send documents to clients who consider aesthetic value, then a colored copier is the way to go.
If you have the funds, you may consider investing in both types of copiers.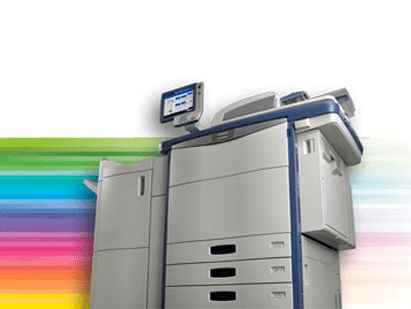 3. How Much Do Office Copy Machines Cost? 
Apart from the upfront cost, you also need to deal with the operational expenses. You need to factor the supplies cost, specifically the paper and ink.
If you opt for a laser printer, it will come with a powdered toner. Inkjet printers, on the other hand, feature liquid ink. Also, you should consider the replacement costs.
Some copiers work on third-party refills.
You also need some foresight and prepare for possible repairs. How much will it cost to repair your copiers? How long will then repairs take?
Today, most copiers come with remote troubleshooting. This feature helps users deal with common software issues. This will save you more time in repairs compared to waiting for hours or days for the technician to arrive.
4. Usability
Another factor to consider is the copiers' usability. This depends on your company's output demand. Be wary that numerous fancy copiers look awesome on the outside. They may come with all the buttons and that futuristic look.
But at the end of the day, can your employees operate them with ease? Thus, go for a copier that comes with a solid operating system but requires minimal training. Also, consider investing in a copier that offers online tutorials and documentation.
Additionally, you want to invest in copiers that come with tech support. This is important especially if you plan to do in-house maintenance.
5. Latest Tech and Features
If you are going to invest in the latest copiers, you need to pay attention to the features and apps that they offer. Some of today's digital copiers offer remote features. This allows employees to produce copies even if they are physically away from the office.
One key feature to consider is the "scan to cloud email" option. This allows you to scan a file on your copier then send it to your business cloud network thereafter. This is perfect for sending copies of documents to several recipients while archiving the latter in your office server.
Another notable feature is the remote control panel. This allows employees to operate the copier from a certain distance.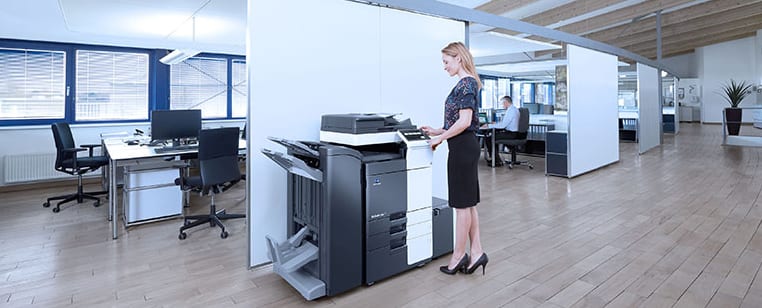 If you want something more cutting-edge, some copiers come with voice recognition technology. This allows users to operate the copier using voice command.
This creeping takeover of voice-activated technology will help your employees save more time and energy. They can accomplish things faster and perform multiple tasks with less effort.
Additionally, don't forget about the memory of the digital copiers you are looking to buy. Most of today's copiers come with an "internal drive." This enables the retention of scans and documents.
Generally, the size of the RAM starts at 256MB. It can also go as high as 2GB. As for the storage space, it can range from 1GB to 1TB.
If your business produces large volumes of printing jobs, you must invest in copiers with higher memory capacity.
6. Reviews Matter
Like buying any other product, you need to conduct your research and due diligence. Read up on different reviews coming from industry experts.
Check the spec sheets coming from the manufacturers. Compared them with what the testing agencies have to say. Also, you can check the Facebook pages of the manufacturers.
Find out if they are keen on responding to customer inquiries. Do some research on their track record. Visit Google Reviews and LinkedIn for extensive reviews.
7. Seamless Integration
You must also consider the copier's integration with your existing networks. You need to test how it fits within your current systems.
Is it easy to set up? Does it come with instructions and online installation tutorials? Will it take out some of your office systems and make the latter obsolete?
8. Budget, Budget, Budget
Last but not least, you need to come up with a budget. Thankfully, you don't necessarily need to get brand new copiers. Several pre-owned copy machines are still in excellent condition.
Start by determining your current printing expenses. Find out the average amount you spend pare page of printing. Will you take care of the in-house repairs and maintenance?
Also, you may consider the option of leasing copiers. This is perfect for start-up companies who simply want to get the ball rolling. Leasing comes with lower upfront costs.
This is excellent for business owners who wish to preserve their credit. Moreover, you don't have to face any problems in terms of reselling and disposal of the units. However, expect to sign a contract that will lock you for a specific period.
If you choose to buy your copiers, it may cost you less in the long run. You will also get to recoup your investment. You can resell your copiers after a couple of years to smaller companies and start-ups.
The problem with buying brand new printers is the initial upfront cost.
Experience Topnotch Copiers, Today!
Office copiers are integral to the operations of some businesses. It comes with benefits and advantages that continue to stand the test of time.
By following the buying guide above, you can find the best copiers that will suit your company's needs. When it comes to quality, we can point you in the right direction.
We offer an extensive selection of digital copy machines and wide format printers. We offer used and brand new items from some of the best manufacturers. Fill out this form and tell us what you need.
Let's get you the copiers that will help take your business to the next level, today!
Compare Quotes