Xerox QUBE9301 Copier – Is it Worth The Money?
The Xerox QUBE9301 copy machine is no doubt one of the best office copiers available on the market today, and with price tag of $22,000 plus it sure better be. This is a cartridge free solid ink copy machine and you'll be able to print 38 pages per minute in color, or up to 50 PPM in black and white. For our full report check out our latest review below and learn about this copiers features and tools to help you decide if this is the right product for business.
Xerox QUBE9301 Review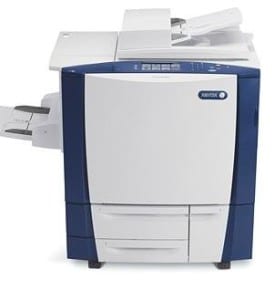 – Size: 45.5" x 31.5" x 51"
– Weight: 596 pounds
– Copier Type: All-In-One (Copier/Printer/Scan/Email)
– Paper Treys: 3 (holds 3,200 sheets, up to 7,300 sheets, 100 Sheet By-pass)
– ASIN: B008MEVSNO
– Features: Servers & Internet Fax
– Connectivity: Ethernet, High Speed USB 2.0 Direct Print
– Security: Scan Kit Data Security
– Duty Cycle: Up to 150,000 images/Month
– Memory: 1GB
– Hard Drive: 160GB
We loved that it had a large easy to use touch screen with single touch scanning for fast document distribution and storing PDF files. While not bad, the print resolution was only 600dpi x 600dpi, but it only takes about 7.2 second for each page to print.
Whether you plan to use this powerful copy machine at your home or in the office, rest-assured you will get the high quality copies you need for any project. The machine also comes with PIN code access protection and is Mopria certified so you can instantly print any document wirelessly without any setup what so ever. We found to be a high quality product and well worth the investment, but if you still want to compare a few affordable office copiers, digital office copiers or copying equipment make sure and visit us regularly for information on featured products.
Do you have this copier at your office? Help other business owners and post a review below and tell us what your experience has been.