How To Choose The Perfect Digital Copier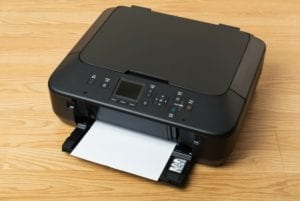 If you have a plan to buy a new copier to support your business activities, you may want to find out if you need to invest in a digital copier. While you will still find analogue copiers in the second-hand copier market, the sale of digital copiers is on the rise. Advanced versions of digital copiers support multiple functions including faxing, copying, scanning, downloading, network-enabled printing, and emailing. Such types of modern, multifunctional digital copiers help business owners benefit from greater cost savings compared to what they could have experienced with the use of analogue copiers or older digital copiers. In simple terms, the use of an in-house model may prove to be more profitable than the option to use an outsourced copier service.
Research conducted by a copier manufacturer suggests that copier ownership may promote a total savings of more than $9,200 compared to copier outsourcing. This translates to $0.40 per page for in-house printing while the same would invite a cost of $1.60 per page for outsourced color copies. Your decision to buy a digital copier will depend on a number of factors and so you may want to know about the main features of digital copiers, which will help you make meaningful comparisons and choose a model that suits your needs.
Print speed is an important consideration when it comes to identifying a digital copier that will help you increase the efficiency of your business operations. With older models, you may generate up to 30 pages per minute whereas with the modern, high-end models, you may get as many as 100 prints generated in one minute. Notably, the modern versions are associated with high warm-up speeds that allow you to get the first copy in just 3.5 to 7.5 seconds.
Secondly, you have to consider print volume as you try to identify the most appropriate digital copier. A copier's paper capacity is often defined in terms of "tray" and "cassette". Basic copiers can accommodate 100 sheets in the tray and 250 in the cassette.  On the other hand, the advanced, multifunction versions can accommodate up to 500 sheets in the tray while allowing for the distribution of more than 2000 sheets over multiple cassettes.
You may look for copiers that come with advanced features such as image-editing, touch-screen controls, wireless connectivity, hard drives that are integrated to the system, and enhanced security controls. Additionally, you may look for models that comply with the Energy Star program in order to reduce your operational costs. If the quality of graphics is one of the prime considerations for you, you may opt for a model with graphic capabilities. Such copiers do not only allow for the reproduction of graphical content with the highest resolution, but they also allow for five-color control. Such models facilitate an exact duplication of the source content, whether you create it by using software platforms or you use a hard copy.