The Best Commercial Copiers Money Can Buy in 2022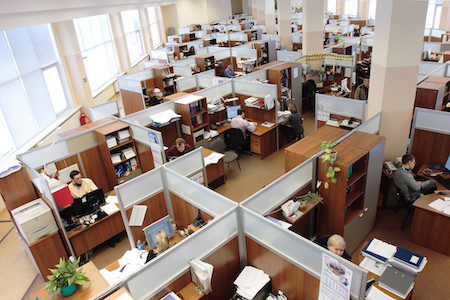 For industries like education and healthcare, printing and copying are still standard practices in the office.
As of 2021, 75% of respondents in a workplace study said that using a copier or printer is "somewhat to very important" for their roles. Specifically, 90% of K-12 educators, 90% of higher education staff members, and 92% of healthcare workers cite that printing and copying are crucial to their jobs.

Regardless of the surge in digital files, it's clear that the best commercial copiers are simply irreplaceable. They're secure, easy to read and use, always available, and always accessible. There's no need to connect to WiFi, send an email, download a PDF, or own a smartphone. So what are the best copy machines money can buy in 2022?
With that being said, it's a great time to upgrade your office setup. From HP commercial copiers to Canon commercial copiers—and every brand between—tech companies are staying relevant by innovating their products to be greater than ever.
Our guide makes buying a new office copy machine easy. Let's continue!
Canon imageRUNNER ADVANCE DX C257iF
This copier is an AIO, or all-in-one model, aka a powerhouse for the office. Not only can it copy, but it can also fax, scan, and print.
It has several wonderful features that optimize workflow efficiency, including:
An intuitive, 10.1″ touchscreen
Seamless integration with Google Drive and other oft-used cloud services
The ability to scan documents and immediately convert them to searchable digital files
High-tech security solutions, including password protection, integration with third-party Security Information and Event Management (SIEM) systems, and malware protection
Advanced cost management practices, like applying print policies and usage restriction
Low energy consumption
ENERGY STAR® certification
It's incredibly user-friendly, from its intuitive maintenance videos to its status notifications that alert staff members to replenish supplies, such as ink. Additionally, the durability and reliability are there, with several awards granted to imageRUNNER ADVANCE models.

Epson WorkForce WF-4740
If your office is too small to accommodate a large model (but still requires a reliable workhorse), this Epson model is ideal for you.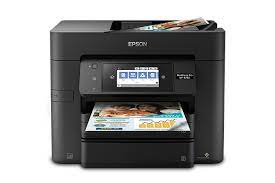 This small but mighty copier can support just about any mid-range business-centric job you throw its way. In addition to copying, it also has two-sided scanning—though you won't have a multipurpose tray.
Although its upfront cost might seem a little pricey, it makes up for it with low running costs, thanks to features like its large paper input capacity, WiFi capabilities, and plenty of other options in the way of connectivity.
Finally, this printer is hailed for being incredibly fast while also producing a high-quality result. It's hard to find a better option for a tiny office.

HP Color LaserJet Enterprise MFP M880z
Here we have another fantastic AIO option. Remember, that means it can print, copy, scan, and fax.
It's relatively fast, printing up to 45 pages per minute (some of the faster models print 65 ppm). That means that within eight seconds of starting a print job, whether black and white or color, you'll have your page. Both black and color prints have a resolution of 1200 x 1200 dpi (dots per inch).
Other great features of this HP model include:
Monthly page volume from 5,000 up to 25,000
A monthly duty cycle of up to 200,000 pages, making this an excellent choice for higher volume settings
Five paper trays
Mobile printing capabilities
USB, fax, and ethernet ports, among others
A host of compatible operating systems, meaning you won't have to update your computers, too
Supports several media types, from glossy paper, photo media, and tough paper to envelopes, labels, and cut sheet paper
If one of your top priorities is sustainability, keep in mind that this copier is ENERGY STAR® qualified. That means it has met ENERGY STAR's requirements and is certified, but uses older language. (Similar terms include ENERGY STAR compliant and ENERGY STAR rated.)

Xerox D125 Mono Laser MFP
Remember earlier when we said that some of the faster copiers print up to 65 pages per minute?
Well, that leaves one important question: what do the fastest models print?
This Xerox model, which comes with a hefty price tag to boot, prints up to 125 pages per minute. In addition to that, it has an unbelievable monthly duty cycle of up to 2,000,000 pages. If you operate a print-heavy work environment (such as any we discussed earlier—healthcare, architecture, education), this tool is vital for seamless production.
Its resolution is comparable to the HP Color LaserJet at 1200 x 1200 dpi, with a printing capacity of anywhere from 4,050 sheets to 8,600 sheets.
This all-in-one option can copy, print, scan, and finish, but doesn't fax.

Kyocera ECOSYS M3550idn
Finally, we'll mention this Kyocera model, which is energy-efficient, easy to use, powerful, and customizable.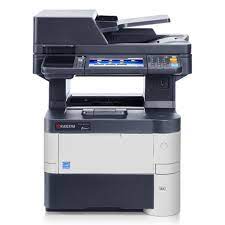 It has low power consumption, a low noise mode (because offices are loud enough as it is), and one of the lowest printing costs in its class. It has a full-color, 7-inch touchscreen, mobile printing capabilities, and 1200 dpi quality.
Similar to the HP, its first prints or copies take eight seconds to produce, allowing it to print up to 50 pages a minute. Additionally, it only takes 21 seconds or less to power on, allowing your employees to work quickly and efficiently.
This model can do double-sided prints as well as copying, faxing, and color scanning. It's hard to ask for more!

The Best Commercial Copiers Produce the Best Results
Your employees have an easier job when they're using the newest products, resulting in more optimized office practices.
If they're dealing with paper jams, slow speeds, low monthly duties, and other frustrations, their job becomes not only more difficult but more annoying, too. In turn, they might feel less motivated and engaged.
By upgrading to one of the best commercial copiers listed here, you'll make everyone happy—your staff, your clients, yourself.
For an even more unique pricing guide built around your specific needs, click here. We'll send you free price quotes from local suppliers that are both affordable and highly rated. Copy that!