Tips and Tricks for Picking Your Next Commercial Copier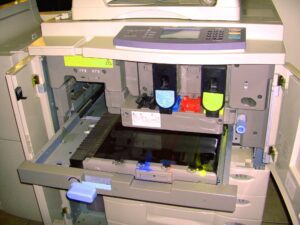 Did you know that the office equipment you choose for your business can boost your employees' productivity?
Whether you are running a small enterprise or a big company, finding the right commercial copier for your office can be challenging.
Buying a copier machine takes more than just looking at its design and the price tag. Although the cost will undoubtedly affect your choice, other factors will play an integral role in your selection of a copier.
COMPARE PRICES
As you embark on sourcing the best commercial copier, what features should you look for? Here are a few tips to guide you.
Equipment Integration and Multi-functionality
You probably have several computers and other document production machines in your office. For this reason, you will need a commercial copier that can easily integrate with these devices.
Look for a copier that can create a seamless workflow for your team. Your ultimate objective should be to minimize disruption among your workers. A copier printer that is compatible with many document production devices will save your employees time.
Workers don't have to hop from desk to desk, trying to share, print, or scan documents. Besides that, you should consider a multifunctional copy machine. This is a commercial copier that will allow you to scan, fax, print, and copy.
When deciding on multi-functionality, factor in black-and-white and color printing. If you intend to print color documents, a copier with such capability will come in handy.
Current Technology and Features
Investing in the latest copier machines could be a great idea as you are going to get the most advanced features and applications.
In the current work trend, more employees are working remotely. The good news is that some digital copiers allow employees to print pertinent documents from home. They will enable the people on fieldwork teams to print reports, even when they are not in the office.
There is also the "scan to" feature. It is an intelligent application that will let you scan a document on the printer and share it on your business cloud platform.  As a result, you can share a copy of the document with your entire team at once.
The remote control panel is another feature that may come in handy. With this application, your workers can control the printer from their desks.
Usability
Some printers have state-of-the-art technology. At first glance, they look fancy. However, the problem arises when your employees start using them.
For example, a copier machine that is difficult to navigate will not add value to the office. Your team will struggle to use it. Unfortunately, this will derail their work.
At the end of the day, you want a user-friendly copier scanner or printer in the office. Each of your employees, regardless of their knowledge of office tech, should be able to use it.
A user-friendly copier machine with a formidable operating system will demand minimum training. And within a short time, your entire team can use it without any qualms.
Printer Warm-Up Speed
Different commercial copiers have varying warm-up speeds. Usually, these range from five to forty-five seconds. A slow warm speed will waste your employees' time.
A few seconds lost may not seem like a big deal. But within a year, it could result in significant time lost, especially if you work with a large team.
If your office environment is busy and your team prints many documents, choose a copier with a fast warm speed.  If possible, invest in a copier machine with instant warm speed. As a result, it will save your workers printing time and boost overall productivity.
COMPARE PRICES
Mobile Printing
Mobile phones are revolutionizing how we work. It is now much easier for your employees to receive a work-related document through their phones.
When this happens, they'll need to print these documents. A printer that doesn't support mobile can inconvenience workers tremendously. They have to transfer the document to the computer and print it.
The entire process will consume more time. Choose a copier that supports mobile printing to eliminate unnecessary hassles. As a result, your team can be more productive regardless of the mobile devices they are using for work.
Security
Your copier will be part of your business network. Moreso, some modern copiers have Wi-Fi connectivity. At some point, they hold plenty of your company data.
You don't want sensitive company data to end up in the hands of hackers. Hence, choosing a copier with a good security setup will help you keep cyber-criminals at bay.
Scanning
In some office settings, people use a copier to scan more than print. If you have experienced this in your office, you need a copier with solid scanning capabilities.
Ensure the copier scanner you pick has an impressive scanning speed. Usually, this speed is measured in IPM (Images Per Minute).
Get a copier with a speed of at least 160 IPM, and it will help your team work faster.
Copier Supplies
Your copiers will need some accessories like toners, ink, or cartridge to function properly.
Think about the availability of these supplies before purchasing a copier. If it is a rare model, you may struggle to replenish the ink or source the right toner. You want a copier with readily available supplies.
Additionally, you have to look at the prices of the supplies. For example, some fancy modern copiers have expensive toners. Each time you need one, you will pay a premium price for it.
From a business perspective, investing in such a machine will not help to keep office operation costs low. Instead, buy a common model or work with a commercial copier lease provider.
Invest in the Best Commercial Copier
Investing in the best commercial copier machine will provide your workers with much-needed efficiency. It will allow them to concentrate on the core business without worrying about document processing.
If you don't know how to identify a sound commercial copier, we are here to help you with the best copier buying advice and resources. Get a free quote from us today.
COMPARE PRICES