How Does The Konica Minolta c6000 Stack Up Against the Competition?
The Konica Minolta C6000 proved over and over to be a powerful and  comprehensive copier & printing solution. A total printing solution. Reports indicate this office equipment stood up to it competitors in most department. A quality digital color print production requires continuous efficiency, non-stop reliability and superb results. That's what you with the new bizhub PRESS Konica Minolta c6000, a scalable digital printing solutions that delivers versatile media handling, professional finishing and top of the line simplified workflow integration for business. This document printing solutions is cost effective and proven to be well suited to a wide variety of printing operations that demand only the best.
Konica Minolta c6000 Copier Review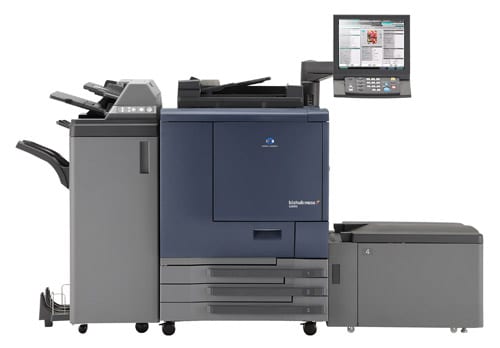 60 PPM Color & B/W
Scans 600 x 600 dpi
Memory HDD: 160 GB x 6 SATA
420 Second Warm-up Time
256 Gradation
1,500 Paper Capacity
Zoom 25% – 400%
Power Requirements 220 -20V 20A (50-60Hz)
Weighs 778.5 lbs
Stapling options, Saddle stitcher (optional)
Perfect Binder Solutions
Memory 2GB
All In One
Max Image Area 321 x 480 mm
Scanner Speed up to 40 opm
The bizhub PRO C6000 Konica Minolta presents ahigh quality version of a top of the line, high-speed color digital system that takes image quality and consistency to new levels. Its amazing document imaging capabilities along with a strong construction, professional feature set and its affordability make this piece of office equipment the ideal entry-level print production solution for CRDs, print providers, high-volume print needs, and professionals in marketing and advertising agencies.
Digital color on-demand printer – impressive speeds of up to 60 color prints perminute
Singular image quality – matchless clarity and precision with 1,200 x 1,200 dpi x 8 bit full color resolution and Simitri® HD polymerised toner
Konica Minolta's advanced colour processing technologies – absolute consistency with S.E.A.D. II imaging, FM screening, stability monitoring, density control
Professional media and finishing capabilities – advanced media management for up to 300 gsm paper, and versatile finishing features, incl. booklet making, punching, post insertion